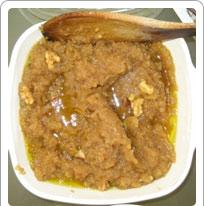 Moong Dal Halwa
Moong dal halwa is relished equally everywhere in Rajasthan. Halwa is supposed to keep the body warm during the winter months. Here is the classic recipe.
Ingredients :
100 grams Moong Beans (Moong Dal)
100 grams Sugar
200 grams Ghee
1/2 glass Water
For Garnishing :
4-5 pieces Currants
10 pieces Almonds
5 pieces Pistachio (Pista)
Method :
Keep moong dal soaked for two hours approximately. Grind it and keep it.
Pour ghee in a pan. After heating it add the grinded moong dal.
Cook on low flame until you see it turning golden brown. The distinct aroma makes it irresistible. Take off the flame and keep it aside.
Now pour water in pan. Heat it and add sugar. Boil so as to let the sugar melt.
Now mix the moong dal batter with this sugar syrup. Saute on a low flame to blend dal with sugar well.
Moong dal halwa is ready. Just put it off the fire. Garnish with chopped almonds, pistas and currents.