Home
Rajasthan Destinations
Rajasthan Destinations
Rajasthan - The Land Of Maharajahs
Rajasthan, the land of Rajput warriors, India's desert state, the land of royalty, a destination for festivals and fairs, land of wildlife and adventure, land of palaces and heritage hotels; Destination Rajasthan offers so much to any tourist with any budget, any interests, that it is absolutely amazing.
The Wonders Of Rajasthan are:
The capital of Rajasthan, also called the Pink City. Jaipur's buildings have a pink tinge as most them are made of local sandstone. Built by Jai Singh II, Jaipur is India's first modern planned city. It is now the largest gem centres in the world and extremely popular as a destination for jewellery made from silver, uncut stones and gold. Jaipur is one of the popular troika of Indian tourist destinations called The Golden Triangle, the other two being Delhi and Agra.
Jaipur Tourism
The City Palace, also called Chandra Mahal and now a Museum, Hawa Mahal (Palace of Winds), the Amber (Amer) Palace and Jantar Mantar - The Royal Observatory built by the Maharaja Jai Singh are some of the major attractions of Destination Jaipur.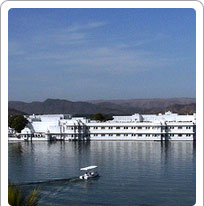 Udaipur Tourism
Venice of the East and City of Lakes are just some of the popular names of this fabulous destination. Also a City of Palaces, Udaipur is known the world over for its Lake Palace, made of marble and set in the Lake Pichola is almost like a dream.
Jaisalmer Tourism
Also called the Golden Tourism for its red sandstone building, Destination Jaisalmer is very popular with the tourists for its typical Rajasthani architecture, sand dunes and camel safaris. The fort here is a living fort, with most of the town enclosed in its ramparts. It is also very well known for its beautiful Havelis.
Jodhpur Tourism
Jodhpur is the second city of Rajasthan. It is also called Blue City for the indigo tinge of its houses and the Sun City for its bright weather around the year. A true blue princely destination, Jodhpur is known for the lavish Umaid Bhawan Palace, the Mehrangarh fort and for its museum and handicrafts.
Ranakpur Tourism
A temple destination, Ranakpur is a Jain pilgrimage centre. Dedicated to Sri Adinathji, the Ranakpur temple is among India's finest. A quiet and serene place, Ranakpur gives a chance to connect with one's self and enjoy a peaceful vacation.
The only hill station in Rajasthan. Guru Shikhar in Mount Abu is also called the Hill of Wisdom. Destination Mount Abu is firmly placed on the tourist map for its Dilwara Temples, a temple complex that defies description for its beautiful architecture and carvings.
Ajmer Tourism
One of Islam's major pilgrimage centres for the tomb of Khwaja Moinudin Chisti, Destination Ajmer is also a symbol of 'Sarva Dharma Sambhava' or secular India. The shrine is visited by millions belonging to all religions, from all over the globe.
Pushkar Tourism
Destination Pushkar is a holy city for Hindus. One of the world's only temple dedicated to Lord Brahma The Creator is situated here. A dip in the lake of Pushkar is said to wash away sins. Pushkar comes alive at the time of its annual fair that is also cattle trading destination and world's largest camel fair.