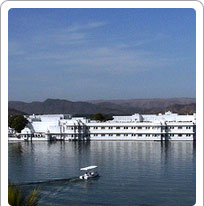 The Lake Palace Udaipur is truly one of the wonders of Rajasthan....
Hotel Lake Palace Udaipur
Udaipur, A Wonder Of Rajasthan, Is A Favourite Destination Of Celebrities, Including Hollywood Stars Like Angelina Jolie And Madonna. The Diggings Of Choice For These Celebrities Is The Hotel Lake Palace, A Marvellous Heritage Hotel.
Location: Lake Pichola, Udaipur. 24 km from the airport, 2 km from city centre
Rajasthan – Udaipur – Heritage Hotel – Lake Palace Hotel
The Lake Palace Udaipur is truly one of the wonders of Rajasthan. Built in the 17th century, it is one of the most luxurious and favoured hotels in India. Built in Lake Pichola on a solid foundation of four acres of rock, the Lake Palace was the vision of Maharana Jagat Singh II, 62nd descendent of the royal house of Mewar, believed to be a direct descendent of the Sun God. Earlier the Lake Palace was named Jag Niwas after the Maharana.
Set against a backdrop of the Aravali mountain range, the vision in white marble arises out of the turquoise waters of the lake. Now a premier heritage hotel, it is managed by the Taj Group of Hotels. The property has a mix of suites and rooms and all facilities, luxury dining and recreation that a tourist would associate with a property like this. There are 83 centrally air-conditioned rooms inclusive of 17 suites and a Grand Presidential Suite.
Making the guests feel nothing less than royalty are the Royal Butlers, descended from the original palace retainers. The facilities for recreation and relaxation include a spa, aerobic workout room, game room, bookshop, private puppet shows, daily performances of local performing arts, and heritage champagne walks at the palace. The hotel also organises fireworks show on request. Swimming pool, mini gym, travel desk, car rental, shopping arcade, currency exchange safe deposit lockers, doctor on call and baby sitting are par for the course.
Outdoor activities that can be pursued during a holiday at the Lake Palace are jeep safari, horse riding, trekking, visits to various lakes, temples, forts and palaces, mountain biking and wildlife trekking. Guides are available.
The cuisine is nothing short of an experience by itself, ranging from the casual to the formal and fine dining. Conference and banquet facilities are available at the Lake Palace Hotel. Enjoy the food and wine at:
Amrit Sagar
Amrit Sagar or Sea of Nectar is a stylish bar. With an indoor-outdoor setting, Amrit Sagar has a fine selection of spirits, vintage wines, cigars and 'sheeshas'.
Bhairo
Rooftop open air restaurant with a magnificent view of the city, Bhairo has a cocktail menu and mouth-watering Asian fusion cuisine.