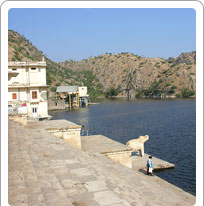 Jaisamand Lake is the largest manmade lake in Asia....
Forts and Monuments
Temples
Parks
Museums
Lakes
Fair & Festival
Wildlife
Near Udaipur
Jaisamand Lake Udaipur
Jaisamand Lake is the largest manmade lake in Asia. Maharana Jai Sigh had it built in the seventeenth century by building a dam over Gomti River. The Jaisamand Lake is an amazing 14 km long and 9 km wide.
Also known as Dhebar, it is located 52 km south-east of Udaipur. Elegant marble steps lead to a small temple of Lord Shiva at the edge of the lake's waters. The lake is surrounded by a forest that is home to several migratory and rare birds as well as wildlife like panthers, deer and wild boar. It was earlier used as a hunting reserve by the royalty and is now a game sanctuary.
On the banks of the lake are cenotaphs and palaces on either side of the lake that were made for the Queens. A massive bund on the lake, is captivating for its size at 1202 feet long, 116 feet high and 70 feet broad at the base.
The lake is excellent for a boat ride, swimming and diving. There is even an island resort hotel on Jaisamand Lake providing sumptuous lodgings.